Alien Outlaw is a 1985 not-quite sci-fi western film directed by Phil Smoot. It stars Lash LaRue, Kari Anderson, Sunset Carson and Stephen Wineguard. RiffTrax released their riff in February 2015.
It is the second 2015 riff directed by Phil Smoot and to feature Lash La Rue, the first being The Dark Power, continuing a concept that originated with the 2012 riffs of Future Force/Future Zone and Mutant/Nightmare at Noon, as well as 2013's Dr. Who and the Daleks/Dr. Who: Daleks - Invasion Earth: 2150 A.D.
Description and Preview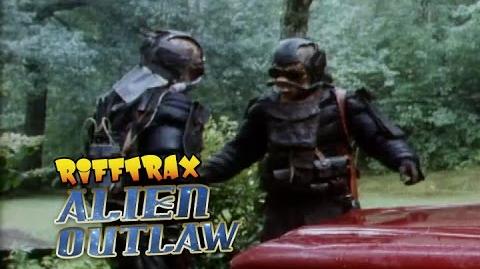 A handful of cowboys, a cowgirl, a fisherman, a man in overalls, and some country folk, fend off an interstellar attack in this sci-fi-Western hybrid set in the Blue Ridge Mountains. A squad of menacing-looking aliens land in a rural North Carolina mountain community, and they set out to terrorize the humans they encounter; however, a small band of spunky locals are determined to stop the space creatures with a little help from an old cowhand who has a way with the whip but never uses one and a skimpily-dressed sharpshooter. Alien Outlaw features appearances from Western movie stalwarts Lash LaRue and Sunset Carson, as well as fitness trainer Kari Anderson.
Cast and Crew
Kari Anderson as Jesse Jamison
Stephen Winegard as Wes
Sunset Carson as Sunset
Lash La Rue as Alex Thompson
Bill Cody as Man on Bench
Paul Holman as Luger
Richard Davis as Andrew
Gil Newsom as Peter
Quotes
Notes
The film was shot in Allegheny County, NC, in and around Sparta, NC.
Gallery
See Also
External Links