Beast of the Yellow Night is a 1971 Filipino and American horror film directed by Eddie Romero. Satan saves a young man from certain death on the condition that he become his servant and disciple. Hilarity ensues. RiffTrax released their riff in August 2014.
Description and Preview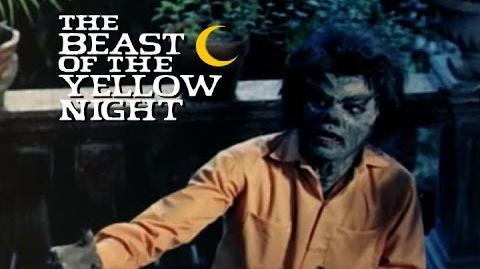 Near the end of the Second World War, Satan saves Joseph Langdon/Philip Rogers (John Ashley) from death on condition he become his disciple. Satan has Langdon inhabit the bodies of several people over the years, bringing out their latent evil. As it turns out, he becomes a hairy murderous beast — a werewolf on the rampage carrying out the evil deeds of the Devil for the next 25 years.
Cast and Crew
John Ashley as Joseph Langdon/Philip Rogers
Mary Charlotte Wilcox as Julia Rogers
Leopoldo Salcedo as Inspector Santos
Eddie Garcia as Det. Lt. Campo
Ken Metcalfe as Earl Rogers
Vic Diaz as Satan
Andres Centenera as Blind Man
and John Carradine
Quotes
Notes
See Also
External Links
Community content is available under
CC-BY-SA
unless otherwise noted.