Bil Corbett
(born March 30, 1960) is a writer and performer on the hit internet sensation
RiffTrax
. Prior to that he was a and performer on the cult television series
Mystery Science Theater 3000
.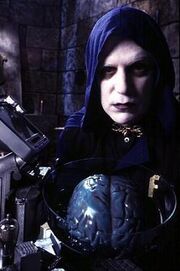 Corbett was a writer and performer on the cult television show
Mystery Science Theater 3000
,
for which he voiced the robot
Crow T. Robot
during the show's later seasons on the Sci Fi Channel and played the character
Observer
and other minor roles. In 2001, Corbett co-wrote the Sci Fi Channel miniseries
Th
e Adventures of Edward the Less
with several other former MST3K writers. Corbett also co-wrote the 2008 film
Meet Dave
starring Eddie Murphy. From 2002 to 2006, Corbett was a member of
The Film Crew
, a movie-riffing comedic team comprising former MST3K costars
Mike Nelson
and
Kevin Murphy
.
Bill Corbett is married and has two children.
Corbett has also been an actor in the resident acting companies at the Guthrie Theater and the Berkshire Theater Festival, and has taught playwriting and screenwriting at Kenyon College in Ohio, the Guthrie Theater in Minneapolis, and many other universities and schools. He's a graduate of the Yale School of Drama, where he earned an MFA in playwriting and screenwriting. Before that, he received a BA from Yale College.
In 2006, Bill joined Mike Nelson and Kevin Murphy on RiffTrax.com.
In 2014, Bill Corbett and Len Peralta published Super-Powered Revenge Christmas.
In 2017, Bill Corbett reprised his role of Observer (aka Brain Guy) in 3 episodes of Mystery Science Theater 3000.
In 2018, Bill Corbett began producing and hosting the podcast Bill Corbett's Funhouse.
Bill's Picks
Edit
In 2014, RiffTrax published Bill Corbett's list of favorite riffs. They included:
Riffography
Edit
See Bill Corbett's Complete Riffography
External links
Edit
Community content is available under
CC-BY-SA
unless otherwise noted.