Breaker! Breaker! is a 1977 not-quite action film starring Chuck Norris.
RiffTrax released their riff in March 2013.
Description and Preview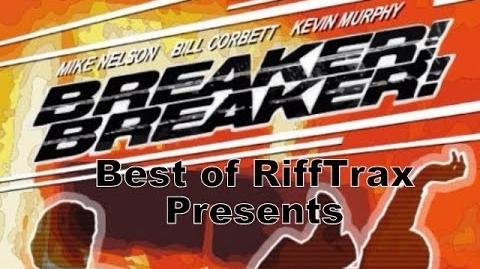 J.D. (Chuck Norris), a trucker from California, returns from the road to learn that an old friend was killed by Sergeant Strode (Don Gentry), a policeman in Texas City, California. He makes inquiries into Texas City and learns that its policemen have a history of "trapping" truckers for a corrupt judge.
When his younger brother Billy (Michael Augenstein) begins working as a trucker, J.D. warns him to stay away from Texas City. But Billy is easily fooled by an officer on a CB radio, who pretends he's a fellow trucker in need of help.
After Billy disappears, J.D. sets out in search of him. He goes to Texas City and sits in on a city council meeting, wherein Trimmings' stooges boast of their booties. He eats at a local diner and befriends his waitress, a single mother. After getting into a fight with the owner of the local wrecking yard, J.D. is arrested and sentenced to death by Judge Trimmings.
J.D.'s girlfriend tells his fellow truckers what's happened via CB radio. They come to rescue J.D. and Billy and tear the town down.
Cast and Crew
Chuck Norris as John David "J.D." Dawes
George Murdock as Judge Joshua Trimmings
Terry O'Connor as Arlene Trimmings
Don Gentry as Sergeant Strode
John Di Fusco as Arney
Ron Cedillos as Deputy Boles
Michael Augenstein as William "Billy" Dawes
Dan Vandegrift as Wilfred
Douglas Stevenson as Drake
Paul Kawecki as Wade
Larry Feder as George
Jack Nance as Burton
David Bezar as Tony Trimmings
Ron Holmstrom as trucker voices
Notes
See Also
External Links
Community content is available under
CC-BY-SA
unless otherwise noted.