Firehead is a 1991 science fiction–thriller film. It was directed by Peter Yuval for Action International Pictures, and stars Chris Lemmon and Christopher Plummer. It was filmed in Mobile, Alabama and released theatrically in 1991. RiffTrax released their commentary in June 2013.
Description and Preview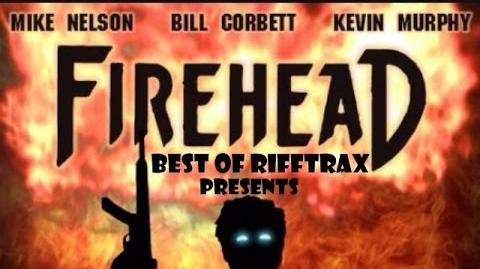 In 1988, a telekinetic Soviet agent known as "Firehead" (Brett Porter) defects to the west after refusing to use his powers against Estonian protesters. Two years later, he begins blowing up American munitions factories for unknown reasons. An NIH chemist (Chris Lemmon) and a government assassin (Gretchen Becker) are ordered to track him down. Meanwhile, a secret society led by Colonel Vaughn (Christopher Plummer) prepares to use Firehead's activities as a pretext for a coup d'état.
Cast and Crew
Christopher Plummer as Colonel Garland Vaughn
Chris Lemmon as Warren Hart
Brett Porter as Ivan Tibor
Gretchen Becker as Melia Buchanan
Martin Landau as Admiral Pendleton
George Elliot as Fallbright
Edmund Kearney as The President
Douglas Simms as Taggart
Lauren Levy as Smith
Ralph Sims as Shaw
Thomas C. Smith-Alden as Devries
Eugene Walters as Simon
Robert MacDowell as Spector
Graham Timbes as Russian Commander
Ann Thornton as Reporter
Quotes
Notes
See Also
External Links