Freddie Steps Out
is a 1946 American film directed by Arthur Dreifuss and produced by
Sam Katzman
. It is the second in the Teen Agers series of films.
RiffTrax Presents team Bridget Nelson and Mary Jo Pehl released their riff in September 2018.
Plot Synopsis & Preview
Edit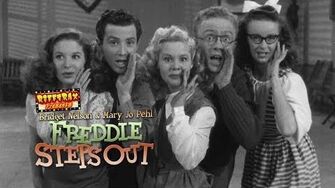 Teenager Freddie Trimball gets mistaken for a missing singer and antics ensue. The situation is further complication by the introduction of a baby of unknown origins.
Several musical numbers take place until the story ends happily for everyone involved.
Cast and Crew
Edit
Freddie Stewart as Freddie Trimball and Frankie Troy
June Preisser as Dodie Rogers
Anne Rooney as Addie Rogers
Noel Neill as Betty Rogers
Jackie Moran as Jimmy Forrest
Frankie Daro as Roy Donne
Warren Mills as Lee Watson
Belle Mitchell as Miss Hinklefink
Milt Kibbee as Professor Townley
Murray Davis as Tiny
"You could become Robbie the Robot!"
Actor Frankie Darro (who played Roy) later appeared (uncredited) as Robbie the Robot in the highly-regarded science fiction film Forbidden Planet.
"Way to represent fellow Minnesotans!"
Actress Noel Neill was indeed born in Minneapolis, Minnesota. Her accent can occasionally be detected.
"OK, cue the Yankovic kids..."
Spoken as a pair of accordionists enter, this could refer to either Frankie Yankovic or "Weird Al" Yankovic, both of whom are well-known accordion players.
This was the second of several films in the Teen Agers series to become RiffTrax Presents productions in the Bridget & Mary Jo series.
The title card for this film identifies the series as "The Teen Agers". The previous film in the series had designated it only as "Teen Agers".
External Links
Edit
Community content is available under
CC-BY-SA
unless otherwise noted.