Jurassic World: Dominion Dominates Fandom Wikis - The Loop
Play Sound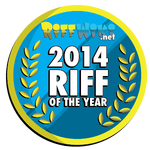 Fun in Balloonland is a 1965 we're-not-quite-sure film. Sonny falls asleep while his Mom reads him a bedtime story and wakes up in 'Balloon Land', a magical world filed with giant balloon people and animals. It is largely comprised of amateur footage of a Thanksgiving parade in Pennsylvania. RiffTrax released their riff in November 2014.  Mike Nelson has called this his favorite movie in his entire career of riffing bad movies. This sentiment has been shared by both Kevin Murphy and Bill Corbett. It was voted the Riff of the Year in the RiffWiki.net 2014 Year in Review feature.
Description and Preview
Fun in Balloonland literally has no plot. There is no story, nothing happens. It starts off with a mother reading her son a bedtime story, followed by him dozing off, then wandering around a balloon warehouse, then some of the creepiest dancing in the creepiest costumes anybody will ever see in their lives, then a Thanksgiving parade. How its creators can claim it to be anything more than a glorified home video is a mystery.
Quotes
Notes
The movie is about 52 minutes long, yet only the first 15 minutes seem to take place in Balloon Land. Most of the remaining movie runtime is footage from a Philadelphia Thanksgiving parade.
Gallery
See Also
External Links