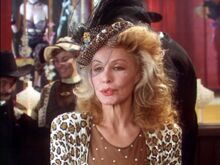 Julie Newmar (born 1933) is an American actress and dancer.
An especially bright young woman, Ms. Newmar graduated high school at the age of 15. She then spent a year traveling Europe with her mother.
Ms. Newmar appeared in the original Broadway production of the musical Li'l Abner (based on the popular comic strip). She played the character Stupefyin' Jones, and reprised the role in the film version.
Ms. Newmar is perhaps best known for playing the villain Catwoman in the first two seasons of the 1960s Batman TV series.
Roles Played
Riffed Movies