Julie and Jack is a 2003 Sci-Fi/Romance film directed by James Ngyuen, who is most notably known for writing and directing Birdemic: Shock and Terror. RiffTrax released their riff in July 2015.
Description and Preview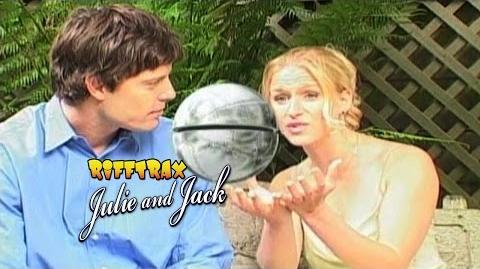 Jack Livingston is looking for true love. He is a successful computer chip salesman for STELLAchip Corporation in high-tech Silicon Valley. With a suggestion from his best friend, Mark Stevens, he reluctantly subscribes to an Internet dating service, CupidMatchmaker.net where he meets Julie Romanov, a beautiful genius computer software developer. Jack falls madly in love with Julie. Julie and Jack begin an intense and passionate affair. With Julie, Jack has found his soulmate. And love is forever. But this seemingly perfect love is more than he had visioned. And so Jack's love for Julie is put to the ultimate test!
Cast and Crew
Jenn Gotzon as Julie Romanov

Tippi Hedren

as Julie McNeal
Justin Kunkle as Jack Livingstone

Patsy van Ettinger

as Mrs. Nancy Livingstone
James Nguyen as Professor Tran
Will Springhorn as Mark Stevens
Damien Carter as Father Love

Rick Camp

as Bob Hammer
Terese Aiello as Susan
Ilea Matthews as Gina
Rahul Gupta as Raju Patel
Lee Boren as Bill Templeton
Chelsea Hope as Helen
Kelli Tyler as Stephanie
Christine Schiller as Melany
Quotes
"Okay, guys, if my opinion means ANYTHING, this is the best riff since The Last Slumber Party, and there have been some REALLY good riffs since then. Seriously. I can't get enough of this one. This is the 5th A+ riff of the year, the others being Wonder Women, Radical Jack, To Catch a Yeti and Rock n Roll Nightmare, and it blows ALL OF THEM out of the water. This pretty much cancels out the existence of Birdemic 2. I don't care if it was made first, THIS is Birdemic's true successor. MKB are at the top of their game going into their 10th year at RiffTrax." - SRD, Editor-in-Chief of RiffWiki.net.
Notes
This film shares many of the same themes and plot devices as James Nguyen's later film, Birdemic: Shock and Terror. They both feature technology salespeople who make big sales, leading them to become very rich, while they are concurrently experiencing a significant romantic encounter.
The film also feature many of the same actors. The actors portraying Dr. Jones, Nathalie's Mom and the "Hangin' Out With My Family" singer in Birdemic all appear in Julie and Jack. It is also speculated that Nathalie and Jack are siblings, as the same actress portrays the mother of each character.
Gallery
See Also
External Links