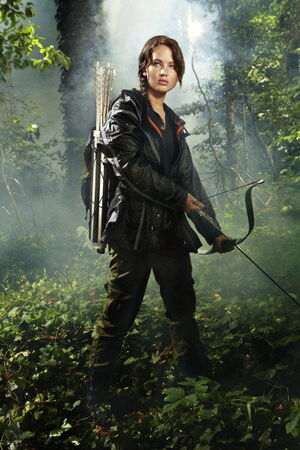 Katniss Everdeen is a fictional character and the protagonist of Suzanne Collins' The Hunger Games trilogy. Her name comes from an edible plant called katniss, and we're all not supposed to think that's a joke.
Katniss and her family come from District 12, a coal-mining district that is the poorest and least populated district in the dystopian fictional autocratic nation of Panem. In the course of the first book, The Hunger Games, Katniss volunteers to replace her sister, Primrose "Prim" Everdeen, after she is called forth during Reaping Day, a day in which, annually, one male and one female tribute between the ages of 12 to 18 are called forth from each district to fight to the death in an arena and only one person can come out alive from all 24 people in what are known as the Hunger Games. Katniss, after an alliance with Rue from District 11 (who reminded Katniss of her own sister), a 12-year-old who had a very touching death, she joins up with fellow District 12 tribute Peeta Mellark, and the pair compete in the Games together. She uses her knowledge of hunting and archery to survive, and the two become the victors after defying the Capitol's attempt to force one to kill the other. Throughout the next two novels, Catching Fire and Mockingjay, Katniss becomes the symbol of a rebellion for the twelve districts against the Capitol's oppression.
She is portrayed by Jennifer Lawrence.
Community content is available under
CC-BY-SA
unless otherwise noted.