RiffTrax Live! MST3K Reunion Show
is a live performance that took place on June 28th, 2016 at the State Theater in Minneapolis, Minnesota. The event reunited most of the cast of
Mystery Science Theater 3000
, along with newcomer Jonah Ray, though J. Elvis Weinstein and Paul Chaplin were not available to participate.
The show featured a series of shorts being riffed by small groups of performers, then all nine cast members appeared on stage together for the final two shorts.
RiffTrax made the event available for download or on DVD/Blu-Ray in September 2016.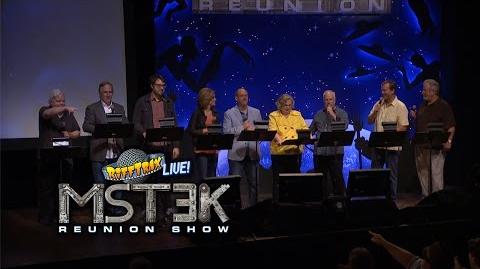 Riffed Shorts
Edit
The Talking Car (riffed by Mike, Kevin, & Bill)
A Word to the Wives (riffed by Bridget & Mary Jo)
More Dates for Kay (riffed by Trace & Frank)
Shake Hands with Danger (riffed by Mike, Kevin, & Bill)
Americans at Work: Barbers & Beauticians (riffed by Jonah and Joel)
10th Anniversary clip package (with Conor Lastowka and Sean Thomason)
Stamp Day for Superman (riffed by the whole cast)
At Your Fingertips: Grass (riffed by the whole cast)
External Links
Edit
Community content is available under
CC-BY-SA
unless otherwise noted.