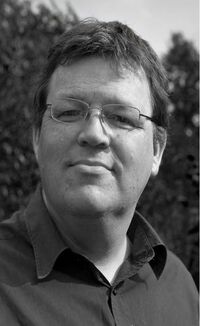 Read RiffWiki's Interview with Matthew J. Elliott!
Matthew J. Elliott is a British-type person and regular host of RiffTrax Presents. He speaks with a British accent and presumably lives in England. Not much more is known about this British person, but one thing we know for sure is that he is definitely British. Probably definitely. Despite what you may have heard, we're sure he's not the voice of Little Kuriboh on Yu-Gi-Oh. Pretty sure.
Matthew is probably best-known as a writer/performer on RiffTrax. He is the author of Lost in Time and Space: An Unofficial Guide to the Uncharted Journeys of Doctor Who, Sherlock Holmes on the Air, Sherlock Holmes in Pursuit and The Immortals: An Unauthorized Guide to Sherlock and Elementary. He's also the editor of several collections of H P Lovecraft and Robert E. Howard collections for Wordsworth Editions. His short story Art in the Blood can be found in The Mammoth Book of Best British Mysteries 8. Other short fiction and articles have appeared in the pages of SHERLOCK, Total DVD, The Sherlock Holmes Mystery Magazine and Scarlet Street. To date, Matthew has written more than 200 plays for U.S. radio, including episodes of The Twilight Zone, Vincent Price Presents, Wrath of the Titans, The Further Adventures of Sherlock Holmes, The Classic Adventures of Sherlock Holmes, Allan Quatermain, Logan's Run, Raffles the Gentleman Thief, The Father Brown Mysteries, Kincaid the Strangeseeker, The Adventures of Harry Nile, The Perry Mason Radio Dramas, Fangoria's Dreadtime Stories and the Audie Award-nominated The War of the Worlds and The New Adventures of Mickey Spillane's Mike Hammer. He is the creator of The Hilary Caine Mysteries, which first aired in 2005. He also writes comic books for Bluewater. Matthew does nothing in his spare time, because he doesn't have any.
Riffography
Edit
External Links
Edit
Community content is available under
CC-BY-SA
unless otherwise noted.