McBain is a 1991 action film written and directed by James Glickenhaus. It is about an ex-soldier who reunites his old army buddies in order to get revenge on a Colombian dictator who killed his old friend, a freedom fighter. McBain starred Christopher Walken, Michael Ironside and María Conchita Alonso. Luis Guzmán also appears as a drug dealer named "Papo". RiffTrax released their riff in January 2013
Description and Preview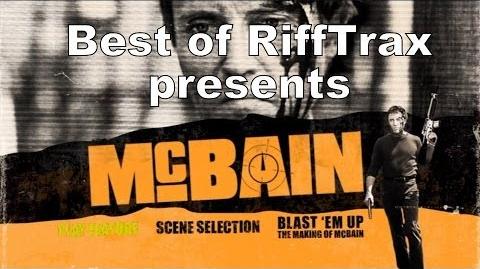 Santos, a Colombian revolutionary, attempts to lead a people's revolt to overthrow the oppressive El Presidente. When his revolt fails and he is killed, his sister Christina goes to New York to find McBain, a lieutenant Santos rescued during the Vietnam War. McBain agrees to avenge Santos' death, calls up his old war buddies, raises the necessary funds by killing a few drug dealers and threatening the mafia, then leads an attack to topple the corrupt government.
Cast and Crew
Christopher Walken as McBain
Michael Ironside as Frank Bruce
Steve James as Eastland
Maria Conchita Alonso as Christina Santos
Victor Argo as El Presidente
Thomas G. Waites as Gill
Chick Vennera as Roberto Santos
Jay Patterson as Dalton
Luis Guzmán as Papo
Dick Boccelli as John Gambotti
Quotes
Notes
See Also
External Links
Community content is available under
CC-BY-SA
unless otherwise noted.