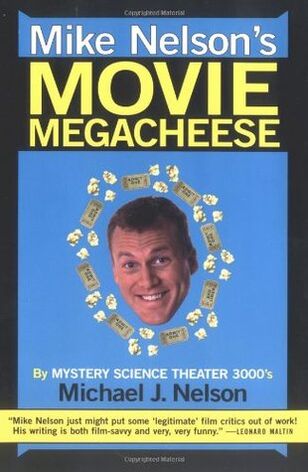 You might think that after ten seasons on the Peabody Award-winning TV series Mystery Science Theater 3000, Mike Nelson has seen enough bad movies for one lifetime. As the guys at Cahiers du Cinema say, au contraire! Hollywood's spigot of stupidity shows no sign of slowing, and cheesy films continue to flood our multiplexes and gunk up our home entertainment centers at an alarming rate. This dire situation calls for a specialist. A professional. An expert in wading through motion pictures so vile that they aren't released; they escape. We need Mike Nelson! Hey, settle down there, pal--you got him!
In more than sixty laugh-out-loud reviews and essays featuring his unique combination of erudite wit and shameless clowning, this screenscarred veteran takes us deep into the recesses of cinematic cheese. He examines legendary showbiz families like Culkin, Baldwin, and Estevez; uncovers an ancient quatrain in which Nostradamus foretells the coming of David Hasselhoff; makes the case for the Food Network and the Three Stooges; and skewers all kinds of movies, including Lost in Space, Twister, Anaconda, The Postman, Spring Break, My Best Friend's Wedding, The Bridges of Madison County, The Blair Witch Project, and many, many more. Here is a film critic for the rest of us: the outrageous, hilarious Mike Nelson.
External Links
Edit
Community content is available under
CC-BY-SA
unless otherwise noted.