Mutant is a 1984 horror film. It was initially released to theaters as Night Shadows, but it premiered on video with the Mutant title, which it has retained for all subsequent VHS and DVD releases. RiffTrax released their riff in May 2012.
Description and Preview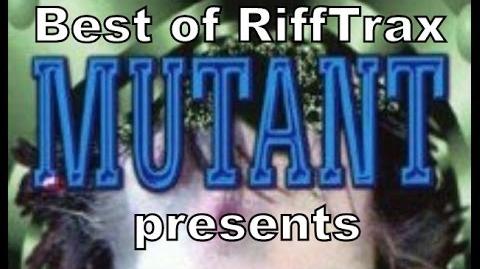 Two brothers Josh (Wings Hauser) and Mike (Lee Montgomery), are run off the road by local rednecks and forced to spend the night in a small town whose inhabitants are suffering from a mysterious disease. Mike goes missing and so Josh has to team-up with the Sheriff (Bo Hopkins) to defeat the mutating townsfolk.
Nightmare at Noon
Nightmare at Noon is a 1987 not-quite action film directed by Nico Mastorakis. Exposure to a chemically-contaminated water supply turns scientists into raving lunatics who begin terrorizing a tiny desert town. It shares cast members, themes and plot devices with Mutant and is considered a "sideways sequel." RiffTrax released their riff in October 2012, generating the long running "Blue Thunder" helicopter gag, but it became unavailable in December 2018. Information regarding this title was removed from this wiki per special request and no other information regarding its removal is available.
Cast and Crew
Wings Hauser as Josh Cameron
Bo Hopkins as Sheriff Will Stewart
Jody Medford as Holly Pierce
Lee Montgomery as Mike Cameron
Marc Clement as Albert Hogue
Cary Guffey as Billy
Jennifer Warren as Dr. Myra Tate
Quotes
Notes
This is one of multiple movies supplied to RiffTrax by Multicom Entertainment Group. Although this movie was released through RiffTrax in 2012, 5 years before any other movie associated with MEG.
The film was directed by John "Bud" Cardos. Mark Rosman was originally hired to direct, but was replaced by Cardos early in the production after the studio objected to the way he was shooting the film. 
Mutant was a production of the notorious Edward L. Montoro, and this film's budget was one of the contributing factors to the downfall of Montoro's company, Film Ventures International. 
Dick Clark was an uncredited producer as well.
See Also
External Links
Community content is available under
CC-BY-SA
unless otherwise noted.