Oblivion
is a 1994 science fiction western directed by
Sam Irvin
.
RiffTrax
released
their riff
in September 2017.
Its sequel
was also riffed by RiffTrax.
Description and Preview
Edit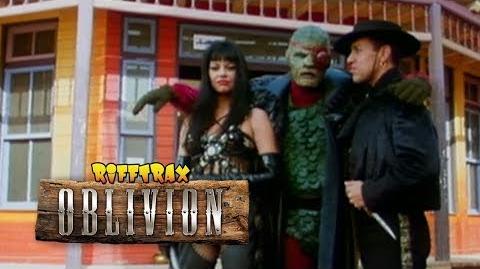 When the marshal of the town of Oblivion (on a distant planet) is murdered, his pacifist son arrives to avenge the death and restore law and order.
Cast and Crew
Edit
Richard Joseph Paul as Zack Stone
Jackie Swanson as Mattie Chase
Andrew Divoff as Redeye / Einstein
Meg Foster as Stell Barr
Isaac Hayes as Buster
Julie Newmar as Miss Kitty
Carel Struycken as Gaunt
George Takei as Doc Valentine
Musetta Vander as Lash
Jimmie F. Skaggs as Buteo
Irwin Keyes as Bork
Mike Genovese as Marshall Stone
A sequel was released in 1996. It later became a RiffTrax production as well.
Not to be confused with the 2013 film Oblivion starring Tom Cruise and Morgan Freeman.
Director Sam Irvin also directed Elvira's Haunted Hills, the second feature film starring Elvira, Mistress of the Dark.
In addition to George Takei, Star Trek fans will recognize actor Carel Struycken from his role as Mr. Homn, manservant to Lwaxana Troi.
This is one of multiple movies supplied to RiffTrax by Multicom Entertainment Group.
External Links
Edit
Community content is available under
CC-BY-SA
unless otherwise noted.