Oblivion 2: Backlash is a 1996 American direct-to-video science fiction Western film directed by Sam Irvin, written by Peter David and starring Richard Joseph Paul, Jackie Swanson, Maxwell Caulfield and Musetta Vander. It is a sequel to Oblivion. RiffTrax released their riff in March 2018.
Description and Preview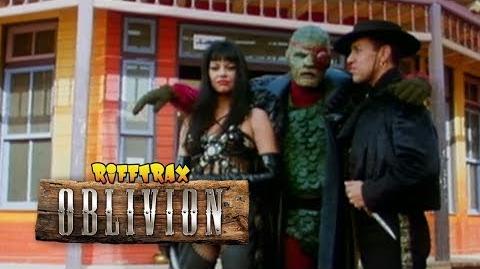 In the alien-western world of Oblivion, a suave, yet lethal bounty hunter named Sweeney arrives to arrest the seductive outlaw Lash on multiple charges, including murder. Lash, who just "inherited" a mine of Derconium (the most valuable mineral in the universe) from Crowley in a game of cards, meets up with Redeye's brother, Jaggar, who wants the mine for himself to rule the galaxy. It's a fight over Lash between the sheriff of Oblivion, Jaggar, and Sweeney. But who will emerge victorious?
Cast and Crew
Maxwell Caulfield as Sweeney

Musetta Vander

as Lash
Andrew Divoff as Jaggar
Richard Joseph Paul as Zack Stone
Jackie Swanson as Mattie Chase
Meg Foster as Stell Barr

Isaac Hayes

as Buster
Julie Newmar as Miss Kitty
Carel Struycken as Gaunt
George Takei as Doc Valentine
Nadine Voindrouh as Josephine
Quotes
Notes
Director Sam Irvin also directed Elvira's Haunted Hills, the second feature film starring Elvira, Mistress of the Dark.
This is one of multiple movies supplied to RiffTrax by Multicom Entertainment Group.
Gallery
See Also
External Links