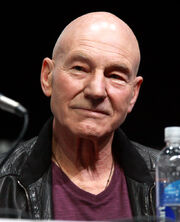 Sir Patrick Stewart (b. 13 July 1940 in Mirfield England) is an English film, television and stage actor with a long and distinguished career. He is most widely known for portraying the character of Captain Jean-Luc Picard in Star Trek: The Next Generation and four Star Trek films, as Professor Charles Xavier in the X-Men film series, his prolific stage roles with the Royal Shakespere Company, and his many voice acting roles.
He became a member of the Royal Shakespere Company in 1966 and remained there until 1982. His television debut occured in 1967 on the British soap opera Coronation Street. His broadway debut came in 1970 as Snout in Peter Brook's production of A Midsummer Night's Dream. He had notable roles in television throughout the early 80s including Vladimir Lenin in Fall of Eagles, Sejanus in I, Claudius, and Karla in Tinker, Tailor, Soldier, Spy. He also had landed several minor film roles such as King Leondegrance in Excalibur and Gurney Halleck in Dune.
In 1987 he became a household name by starring as Captain Picard in Star Trek: The Next Generation, a role he considers the highlight of his career. The experience did leave him somewhat typecast, a comon problem for Star Trek veterans, though he eventually secured another iconic genre character in 2000 with the first X-Men film as Professor Charles Xavier, a role he has reprised in X-Men 2, X-Men 3, X-Men Origins: Wolverene and X-Men Days of Future Past. He has also portrayed the role as a voice in several video games.
In 2004, Patrick Stewart was appointed Chancellor of the University of Huddersfield. In 2008 he was also named a Professor of Performing Arts at the same institution.
Stewart was appointed an Officer of the Order of the British Empire in 2001 and was made a Knight Bachelor in 2010.
He received an honorary doctorate of letters from the University of East Anglia in 2011 and from The University of Leeds in 2014.
Characters Played
Riffography
Notes