R.O.T.O.R. is a 1989 science fiction action film starring Richard Gesswein, Jayne Smith and Margaret Trigg. The film has been described as a low-budget copy of The Terminator and RoboCop. RiffTrax released their riff in October 2014. It was voted 5th Place in the RiffWiki.net Riff of the Year competition.
Description and Preview
A leading scientist in the field of police robotics, Dr. J. Barrett C. Coldyron (Gesswein with voice over by Loren Bivens), whose corrupt boss, Division Commander Earl Buglar (Michael Hunter), orders an experimental police robot prototype - dubbed R.O.T.O.R. (Robotic Officer of the Tactical Operations Research/Reserve Unit). He wants it completed in 60 days so that Senator Donald D. Douglas, who can take public credit for the project and use it to catapult himself into the White House.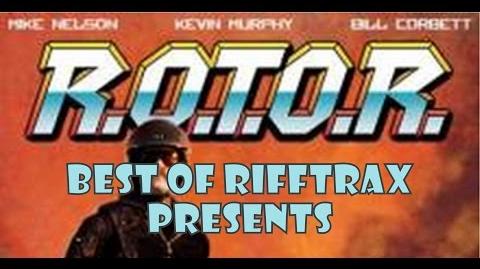 Coldyron warns Buglar that the prototype is several years away from completion but is forced to resign and is replaced by his incompetent assistants, Dr. Houghtaling (Stan Moore) and his robot Willard. In Coldyron's absence, R.O.T.O.R. is inadvertently activated and put on duty. The robot executes a motorist (James Cole) for speeding and terrorize his young fiancé, Sonya (Margaret Trigg), who the robot views as an accomplice in her boyfriend's violation. Upon learning his creation has escaped, Cpt. Coldyron enlists the help of his beautiful colleague, Dr. Corrine Steele (Jayne Smith) who designed the unit's combat chassis. Together, Steele and Coldyron track down the rampaging robot and attempt to stop it from killing again.
Cast and Crew
Richard Gesswein as Captain J.B. Coldyron
Jayne Smith as Dr. C.R. Steele
Carroll Brandon as R.O.T.O.R.
Michael Hunter as Earl G. Buglar
Margaret Trigg as Sonya R. Garren
Shawn Brown as Mokie Killion
Quotes
Notes
See Also
External Links
Community content is available under
CC-BY-SA
unless otherwise noted.