Radical Jack is a 2000 not-quite action film directed by James Allen Brady. RiffTrax released their riff in April 2015.
Description and Preview
Edit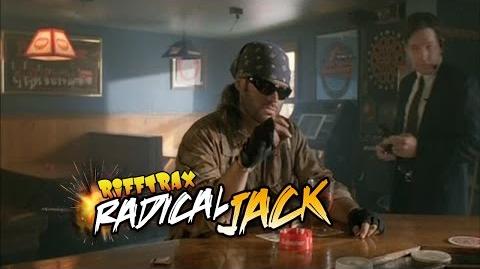 Since his wife died on a failed mission, CIA agent and former Navy SEAL Jack Reynolds (Billy Ray Cyrus) has lost interest in just about everything. He's lured back to work, however, when given the chance to go undercover in small-town Vermont to shut down a ring of gun smugglers. Jack rolls into town, finds work and romance at the local bar, and starts busting heads -- but gun runners Lloyd (George "Buck" Flower) and Rolland (Noah Blake) aren't going down without a fight.
Cast and Crew
Edit
Billy Ray Cyrus as Jack
Dedee Pfeiffer as Kate
Noah Blake as Rolland
George 'Buck' Flower as Lloyd
Brian Smiar as Ollie
Cassie Branham as Becky
Rusty De Wees as Ricky
Benny Nieves as Riotti
Mark 'Woody' Keppel as Sheriff Neil
Paul Schnabel as Dex
Lou Ferguson as Willie
Orly Tepper as Susan
Ken Roberts as Mr. Smith
External Links
Edit
Community content is available under
CC-BY-SA
unless otherwise noted.