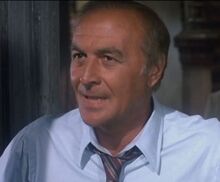 Robert Loggia (1930-2015) was an American actor. He was an Emmy and Oscar-nominated American character actor who appeared in over 220 film and television productions.
Loggia first came to prominence playing the real-life American lawman Elfego Baca in a series of Walt Disney TV shows in 1958. He starred as the proverbial cat-burglar-turned-good in a short-lived series called T.H.E. Cat. In 1972, he played Frank Carver on the CBS soap opera The Secret Storm. His many television credits include appearances on The Bionic Woman, Combat!, Columbo, Ellery Queen, High Chaparral, Gunsmoke, Big Valley, Rawhide, Starsky and Hutch, Charlie's Angels, The Rockford Files (three times as three different characters), Magnum, P.I., Little House on the Prairie, Quincy, M.E., Kojak, Frasier, Malcolm in the Middle, Family Guy, The Sopranos, and Monk.
His film roles include An Officer and a Gentleman (with Tony Plana), Scarface, Prizzi's Honor (with Jack Nicholson), Armed and Dangerous, Big (for which he won a Saturn Award for Best Supporting Actor), Necessary Roughness, and Return to Me.
In 1985, Loggia was nominated for an Academy Award for Best Supporting Actor for his portrayal of crusty private detective Sam Ransom in the thriller Jagged Edge (with Jeff Bridges). He was nominated for an Emmy in 1989 for his portrayal of the title FBI agent character in the short-lived TV series Mancuso, FBI, which was a follow up to the previous year's miniseries Favorite Son.
In addition to his role in Oliver & Company, Loggia has had several other voice acting roles. A recurring role on the Adult Swim animated comedy "Tom Goes to the Mayor" in addition to various video game voice-overs.
In 2010, he was awarded the Ellis Island Medal of Honor in recognition of his humanitarian efforts. On December 17, 2011, Loggia was honored by his alma mater, the University of Missouri, with an honorary degree for his career and humanitarian efforts. In 2012, Loggia portrayed Saint Peter during his final imprisonment in The Apostle Peter and the Last Supper.
On MST3K, he was mentioned as one of several celebrity lookalikes during the end riffing of Experiment 501's Warrior of the Lost World. Additionally, Loggia's shouting (and possibly mis-pronouncing) the name "Hawks!" in Over the Top became a favorite running gag among the RiffTrax team.
Characters Played
Edit
Dr. Bill Raymond
Jason Cutler
General William Grey
Riffed Movies
Edit
Community content is available under
CC-BY-SA
unless otherwise noted.