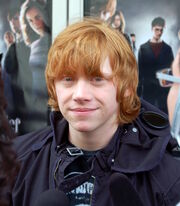 Rupert Alexander Lloyd Grint
(born 24 August 1988) is an English actor who rose to prominence playing Ron Weasley, one of the three main characters in the Harry Potter film series. Grint was cast as Ron Weasley at the age of 11, having previously acted only in school plays and at his local theatre group. From 2001 to 2011, he starred in all eight Harry Potter films alongside Daniel Radcliffe and Emma Watson.
Beginning in 2002, Grint began to work outside of the Harry Potter franchise, playing a co-leading role in Thunderpants. He has had starring roles in Driving Lessons, a dramedy released in 2006, and Cherrybomb, a small budgeted drama of limited release in 2010. Grint co-starred with Bill Nighy and Emily Blunt in Wild Target, a comedy. His first project following the end of the Harry Potter series was the 2012 anti-war film, Into the White, in which he has a supporting role. In 2013, Grint's new film CBGB was released and he has been cast in CBS's new pilot Super Clyde. Grint made his stage debut in Jez Butterworth's Mojo in October 2013 at the Harold Pinter Theatre in London.
Characters Played
Edit
Riffography
Edit