Superargo and the Faceless Giants (Italian: Superargo - L'invincibile Superman, Spanish: Superargo, el gigante, also known as Superargo, The King of Criminals and Superargo the Giant) is a 1968 Italian-Spanish science fiction-Superhero film written and directed by Paolo Bianchini (here credited as "Paul Maxwell"). It is the sequel of Nick Nostro's Superargo Versus Diabolicus. RiffTrax released their riff in December 2016.
Description and Preview
Edit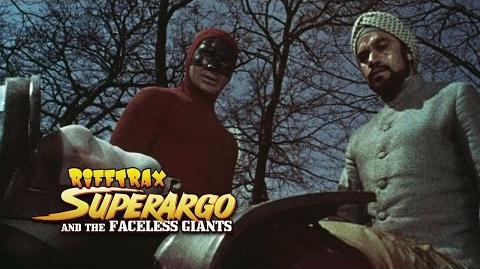 Colonel Superargo has retired from the wrestling ring and has decided to devote himself to improving his crime-fighting skills, teaming up with an Eastern mystic named Kamir (Aldo Sambrell). He soon gets an opportunity to out his skills to use when he is approached by the government for help; a strange army of "faceless" humanoids (they really just have stocking pulled over their faces) have been committing crimes and kidnapping athletes.
Superargo investigates. He attempts to capture a giant by using Claire (Luisa Baratto), the sister of a kidnapped man, as bait, but this only results in Claire getting kidnapped and Superargo getting a lot of bruises. His next attempt, staging a wrestling match and tricking the giants into kidnapping his double, is more successful, and Superargo is able to capture one of the robots. He learns that the robots are actually the kidnapped athletes, who have been turned into mindless automatons by the evil Professor Wond (Guy Madison). Meanwhile, the Professor uses a machine to brainwash Claire into killing Superargo.
Cast and Crew
Edit
Ken Wood as Superargo
Guy Madison as Prof. Wendland Wond
Luisa Baratto as Claire Brand
Diana Lorys as Gloria Devon
Aldo Sambrell as Kamir / Pao-Ki
Tomás Blanco as Davies
Sergio Testori as Jo Brand
Valerio Tordi as Professor Presenski
Aldo Bufi Landi as J.G. Stafford
Valentino Macchi as Bank Guard
External Links
Edit
Community content is available under
CC-BY-SA
unless otherwise noted.