Swamp of the Ravens is a 1975 not-quite horror film. RiffTrax released their riff in November 2013.
Description and Preview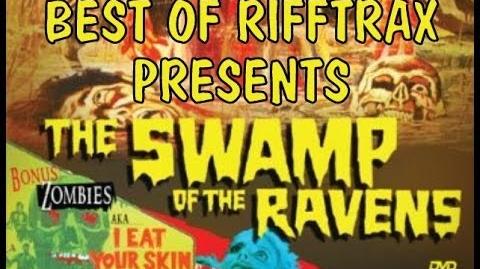 A mad doctor attempts to conquer death by conducting a series of immoral experiments, but instead creates a flesh-eating army of the undead. As the dreadful Dr. Frosta (Ramiro Oliveros) works feverishly to resurrect the dead, his neglected girlfriend Simone (Marcia Bichette) begins to resent him for favoring his work over their relationship. Meanwhile, a local police detective (Fernando Sancho) begins to suspect that the doctor is up to no good, and starts gathering the evidence needed to put him away for life. Little do they all realize that the swamp where Dr. Frosta discards his corpses has become an oasis of the living dead, and the vengeful zombies aren't happy about having their eternal slumber disturbed.
Cast and Crew
Ramiro Oliveros as Dr. Frosta (as Raymond Oliver)
Marcia Bichette as Simone
Fernando Sancho as Inspector
Antonia Mas as Dr. Moore
Ronnie Shark as Dr. Krojer
César Carmigniani as Inspector's Assistant
Marcos Molina as Richard
Gaspar Bacigalupi as Police Coroner
Domingo Valdivieso as Frosta's Assistant
Quotes
Notes
See Also
External Links