The Boy in the Plastic Bubble is a 1976 made-for-TV movie inspired by the lives of David Vetter and Ted DeVita, who lacked effective immune systems. It stars John Travolta, Glynnis O'Connor, Diana Hyland, Robert Reed, and P.J. Soles. It was written by Douglas Day Stewart, executive produced by Aaron Spelling and Leonard Goldberg (who, at the time, produced Starsky and Hutch and Charlie's Angels), and directed by Randal Kleiser, who would work with Travolta again in Grease shortly after. The original music score was composed by Mark Snow. RiffTrax released their riff in June 2010.
Synopsis and Preview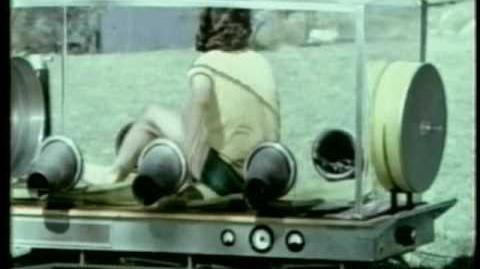 [Spoilers Begin]
The film centers on the life of Tod Lubitch, who was born with an improperly functioning immune system. This means that contact with unfiltered air may kill him, so he must live out his life in incubator-like conditions. He lives with his parents, since they decided to move him from Texas Children's Hospital where he was being kept as a boy. He is constricted to staying in his room all his life, where he eats, learns, reads, and exercises, while being protected from the outside world by various coverings.
As Tod grows up, he wishes to see more of the outside world and meet regular people his age. He is enrolled at the local school after being equipped with suitable protective clothing, similar in style to a space suit. He falls in love with his next door neighbor, Gina Biggs, and he must decide between following his heart and facing near-certain death, or remaining in his protective bubble forever. In the end, after having a discussion with his doctor who tells him he has built up some immunities which may possibly be enough to survive the real world, he steps outside his house, unprotected, and he and Gina ride off on her horse.
[Spoilers End]
Cast and Crew
John Travolta as Tod Lubitch
Glynnis O'Connor as Gina Biggs
Robert Reed as Johnny Lubitch
Diana Hyland as Mickey Lubitch
Quotes
Notes
See Also
External Links