Jurassic World: Dominion Dominates Fandom Wikis - The Loop
Play Sound
The Galaxy Invader is a 1985 direct-to-video sci-fi film directed and co-written by Baltimore filmmaker Don Dohler. The monster in the film bears a resemblance to the titular entity from Creature from the Black Lagoon. The film was shot entirely in Maryland. RiffTrax released their riff in August 2011.
Description and Preview
A glowing object careens toward the Earth. A young student sees it fall into the forest ahead of him. Several hours later, a young couple are terrified and wrestled to the ground in their basement by the monster known as the 'Galaxy Invader'. The alien is hunted by a gang of locals intent on cashing in on the creature.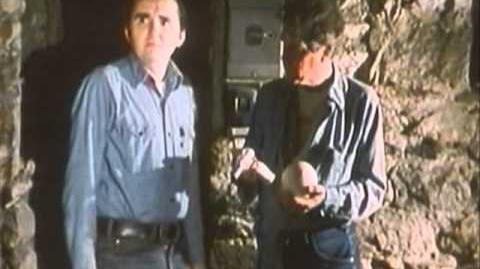 Cast and Crew
Richard Ruxton as Joe Montague
Faye Tilles as Carol Montague
George Stover as J.J. Montague
Greg Dohler as David Harmon
Anne Frith as Ethel Montague
Richard Dyszel as Dr. William Tracy
Kim Dohler as Annie Montague
Theresa Harold as Vickie Johnson
Don Leifert as Frank Custor
Glenn Barnes as Alien / Couple at Bar
Cliff Lambert as Michael Smith
Jerry Schuerholz as McGregor
Paul Wilson as Thompson
David W. Donoho as Giddings
Doug Moran as Turner
Quotes
"Dammit, Great Gazoo! Stop showing off!"
The Great Gazoo was a small green alien visitor who tormented (and occasionally aided) Fred Flintstone on the animated TV comedy "The Flintstones".
"Charles Starkweather is confused!"
In keeping with Mike's comments about the film feeling "like a serial killer", he references Charles Starkweather, a man who killed 10 people during January of 1958, when he was 19 years old.
"Hello? Can I get a Greatest American Hero suit, at least?"
The Greatest American Hero was a TV action-comedy series that originally aired during the early 1980s. It concerned a high-school teacher who was given a special costume by benevolent alien beings. The suit gave him super-human abilities, but he had lost the instructions so he was not able to use it most effectively, often with comic results (similar to Pumaman).
Notes
See Also
External Links