To Catch a Yeti is a 1995 Canadian not-quite children's film directed by Bob Keen. While trying to escape hunters, Hank the Yeti finds himself befriending an American family in a big city. It stars rock star, Meat Loaf Aday, as the main antagonist, Big Jake Grizzly, a monster hunter for hire. RiffTrax released their riff in May 2015.
Description and Preview
Meat Loaf stars in this family-comedy about a Yeti (also known as "Bigfoot" or "Sasquatch") who finds himself lost in an American suburb. RiffWiki.net Editor-in-Cheif Dave Chadwick says "To Catch a Yeti, @RIffTrax's latest VOD, ups the WTF factor beyond even Fun in Balloonland levels."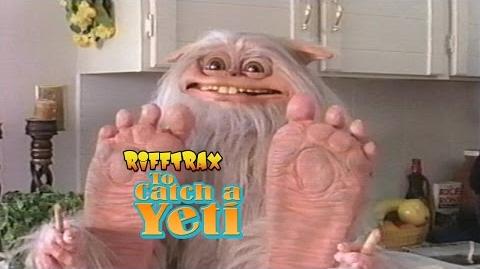 Cast and Crew
Meat Loaf as Big Jake Grizzly
Chantallese Kent as Amy
Jim Gordon as Dave
Leigh Lewis as Kate
Jeff Moser as Wesley
Mike Panton as Arnold Sturgeon
Mona Matteo as Angelica Sturgeon
Terry Logan as Mike Kelly
Richard Howland as Blubber
Quotes
Notes
Gallery
See Also
External Links