Wonder Women is a 1973 not-quite action film directed by Robert O'Neill. It has absolutely nothing to do with the DC Comics character or any of its associated paraphernalia. It also suffers from baffling, needless, unappealing nudity.  RiffTrax released their riff in January 2015. It was the inaugural riff of the year.
Description and Preview
Edit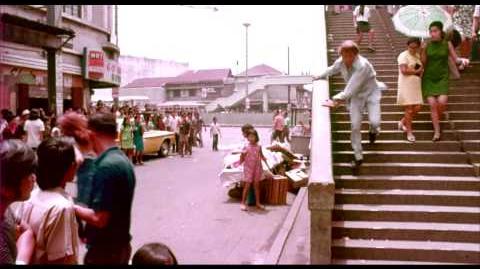 Dr. Tsu is a brilliant surgeon with her own exotic island off the coast of Manila. Using her sexy, all-girl army of martial-arts experts, Tsu kidnaps some of the world's greatest athletes. She is able to transplant any body part, so she uses the athletes for spare parts to sell to the world's richest men. Mike Harber is a womanizing, wise-cracking insurance investigator for Lloyd's of London sent to Manila to investigate the disappearance of a jai-alai player, and becomes involved with Dr. Tsu's mad mission.
Cast and Crew
Edit
Nancy Kwan as Dr. Tsu
Ross Hagen as Mike Harber
Maria De Aragon as Linda
Roberta Collins as Laura
Tony Lorea as Paulson / Lorenzo
Sid Haig as Gregorious
Vic Diaz as Lapu-Lapu
Claire Polan as Vera
Shirley Washington as Maggie
Gail Hansen as Gail
Eleanor Siron as Mei-Ling
Bruno Punzalan as Nono the Fisherman
Joonee Gamboa as Won Ton Charlie
Rick Revere as Paulson's attendant
Rudy DeJesus as The Boy
External Links
Edit
Community content is available under
CC-BY-SA
unless otherwise noted.